Popcorn ceiling removal providers in Portland, Oregon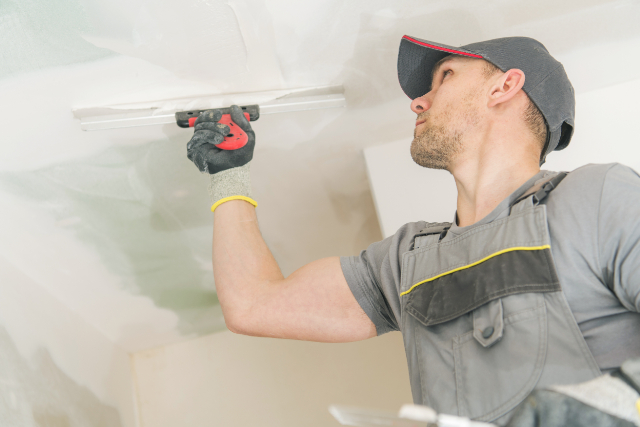 Getting rid of popcorn from a ceiling might be messy, difficult and time consuming. Hiring a knowledgeable expert to complete the task can be an excellent solution to save on labor, materials, and time.
The process includes scraping the texture off the ceiling, adding a second texture, and minor details in between. If you need to have assistance with this home enhancement project, our Portland, Oregon drywall repair company is ready.
Our licensed and properly insured professionals carefully remove old popcorn and acoustic ceilings to upgrade and improve your home, office, or commercial property. We ensure to shield floorings with coverings, scrape, apply, tidy up, and leave your Portland-area house looking better than ever.
We are happy to complete popcorn elimination as part of a larger renovation project or as a stand-alone job. Call our regional Multnomah County providers right now to get a free estimate and to find out more regarding our reliable and affordable solutions.
A historical look at popcorn ceilings
We initially began seeing popcorn ceilings in residences in the 1960s. The style went on to be used through the 1980s.
Popcorn was preferred as a plaster texture due to the fact that it didn't need added color or paint following application. The popcorn texture was likewise reliable at concealing dents and dings in the ceiling drywall.
Over time, we found out that the surface was tough to stay clean and devoid of dust. On top of that, popcorn ceilings have ended up being an undesirable artifact of history.
Those who have tried to remove it on their own and found the process to be challenging to say the least. Removal needs numerous actions, as laid out in the area below.
Our ceiling removal procedure
Our people have developed a proven process for banishing a popcorn ceiling and delivering a brand-new texture to the area. It is as follows:.
Recessed lighting and air vent covers are taken down.
Light fixtures and fans are covered to safeguard them.
The walls and floors are covered with drop cloths while doorways and entryways are closed to prevent particles from spreading.
The true task starts with figuring out if the existing surface is painted or water based. If water based, a water-based solution is employed to soften and dissolve the texture. Painted popcorn needs more scraping effort, which often causes extra repair work needed for the drywall.
After elimination, drywall repair work and patching are made to make a flat finish.
The ceiling is sanded to assure a smooth surface that is ideal for a brand-new texture and/or primer to be added in.
We apply a composition or paint of your preference, making for a complete transformation.
To finish things up, our Portland team removes all supplies and cleans up the area, leaving you with a pristine space.
The entire process generally takes two days to two weeks. It depends upon the extent of the project and dimension of the space(s). We give you updates daily and always keep you notified of the latest.
Connect with us at your convenience to schedule a free consultation with our knowledgeable and skilled company.
Our other drywall service options