Popcorn ceiling removal contractors in Portland, Oregon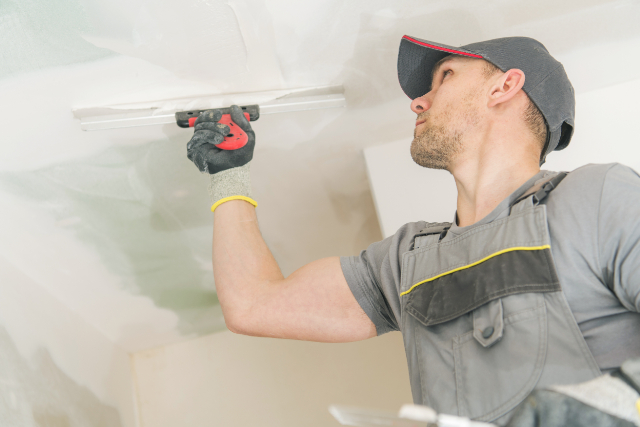 Removing popcorn from a ceiling can be messy, stressful and time consuming. Hiring a skilled professional to do the work can be a great way to save on labor, materials, and time.
The process involves scraping the texture off the ceiling, applying a next texture, and small details in between. If you need help with this home improvement project, our Portland, Oregon drywall repair team is here.
Our licensed and insured experts carefully remove old popcorn and acoustic ceilings to upgrade and modernize your home, office, or commercial property. We make sure to protect floors with coverings, scrape, apply, clean up, and leave your Rose City house looking better than ever.
We are happy to do popcorn removal as part of a bigger remodeling project or as a single job. Contact our local Portland today to get a free estimate and to learn more about our dependable and affordable services.
We first started seeing popcorn ceilings in homes in the 1960s. The texture continued to be used through the 1980s.
Popcorn was popular as a plaster texture because it didn't need added color or paint after application. The popcorn texture was also effective at hiding dents and dings in the ceiling drywall.
In time, we learned that the texture was difficult to remain clean and free of dust. On top of that, popcorn ceilings have become an unsightly relic of the past.
Those who have tried to remove it on their own and found the process to be challenging to say the least. Removal requires many steps, as outlined in the section below.
Our ceiling removal process
We have developed a proven process for banishing a popcorn ceiling and delivering a new texture to the area. It is as follows:
Recessed light and vent covers are removed

Light fixtures and fans are covered to protect them

The walls and floors are covered with drop cloths while doors and entrances are sels to stop debris from spreading

The real work begins with finding out if the existing texture is painted or water based. If water based, a water-based solution is applied to soften and dissolve the texture. Painted popcorn requires more scraping effort, which often leads to additional repairs needed for the drywall. 

After removal, drywall repairs and patching are made to make a flat finish.

The ceiling is sanded to ensure a smooth surface that is optimal for a new texture and/or primer to be added.

We apply a texture or paint of your desire, making for a complete transformation.

To finish things up, our crew removes all materials and cleans up the space, leaving you with a spotless room.
The entire process generally takes two days to two weeks. It depends on the scope of the project and size of the room(s). We give you updates daily and always keep you informed of the latest.
Get in touch with us at your convenience to schedule a free consultation with our experienced and skilled team.

Call us today at 971-369-8707.