Popcorn ceiling removal specialists in Portland, Oregon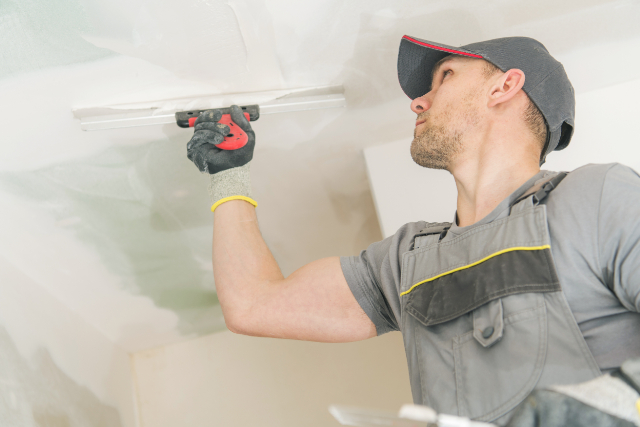 Getting rid of popcorn from a ceiling can be messy, stressful and time consuming. Working with a knowledgeable professional to accomplish the task can be a great approach to save on labor, materials, and time.
The process involves scuffing the composition off the ceiling, administering a second texture, and little details in between. If you need to have help with this home enhancement job, our Portland, Oregon drywall repair crew is ready.
Our certified and properly insured experts thoroughly get rid of old popcorn and acoustic ceilings to update and improve your home, workplace, or business property. We ensure to protect floorings with covers, scrape, apply, clean up, and leave your Portland-area home looking better than ever.
We are happy to accomplish popcorn elimination as part of a larger remodeling job or as a singular task. Call our local Multnomah County providers today to get a complimentary quote and to learn more regarding our reliable and affordable solutions.
History of popcorn ceilings
We first started seeing popcorn ceilings in properties in the 1960s. The texture went on to be used through the 1980s.
Popcorn was favored as a plaster texture because it didn't require added color or paint following application. The popcorn texture was also effective at concealing damages and nicks in the ceiling drywall.
Over time, we discovered that the surface was hard to remain clean and devoid of dust. In addition to that, popcorn ceilings have become an undesirable artifact of the past.
Those who have attempted to get rid of it by themselves and found the process to be demanding to state the least. Removal requires numerous actions, as laid out in the area below.
Our ceiling removal process
We have established a tested process for getting rid of a popcorn ceiling and providing a new feel to the area. It is as follows:.
Recessed light and vent covers are taken down.
Light fixtures and fans are covered to secure them.
The wall surfaces and floor surfaces are covered up with drop cloth materials while doors and entrances are sealed to prevent particles from spreading.
The true work begins with figuring out if the existing surface is painted or water based. If water based, a water-based treatment is used to soften and dissolve the composition. Painted popcorn requires more scraping effort, which frequently results in extra repair work required for the drywall.
After elimination, drywall repair work and patching are initiated to make a level finish.
The ceiling is sanded to ensure a smooth surface area that is ideal for a new texture and/or paint primer to be added.
We apply a composition or paint of your preference, making for a total change.
To finish things up, our Portland team removes all building materials and cleans up the area, leaving you with a clean room.
The whole process generally takes 2 days to 2 weeks. It depends on the scope of the job and size of the room(s). We deliver you updates on a daily basis and always keep you informed of the latest.
Get in touch with us at your convenience to set up a complimentary consultation with our knowledgeable and proficient crew.
Our additional services service options